Son of Kafwain is at Edgeview Equestrian Center in Idaho
By Eric Mitchell, January 31, 2018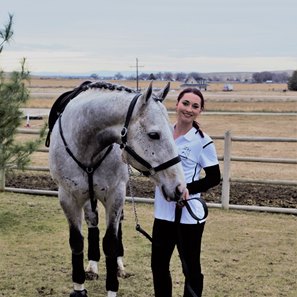 Show horse trainer Stevee Keller didn't realize a casual conversation about Thoroughbred pedigrees she favored would lead to her owning her first stallion and a rising star in the world of three-day eventing.
Keller had been talking with Adrian Gonzalez, with Checkmate Thoroughbreds, who she attends sales with in California. Gonzalez asked her if she had a preference for particular bloodlines.
"I told him the one that is really up-and-coming are with The Pamplemousse babies," Keller recalled Jan. 31, referring to the grade 3-winning son of Kafwain who was standing at Rancho San Miguel. "I have, like, four that are on their way to becoming two-star, three-star, almost up to Olympic level, three-day eventing horses. Adrian just laughed."
It so happened that Gonzalez handles the sale consignments for Rancho San Miguel's young horses and knew the farm wanted to find a new home for the big gray 12-year-old horse.
After face-to-face meetings with Rancho San Miguel's general manager Clay Murdock, Keller got an exciting new prospect and Murdock found an ideal second career for The Pamplemousse.
"The interest had slowed on the horse, and we just wanted to find him a good home," Murdock said. "This is a great win because he is such a nice horse, and Stevee really loves him."
The Pamplemousse was bred in Kentucky by Fred and Nancy Mitchell's Clarkland Farm, who sold him as a yearling for $80,000 at the Fasig-Tipton Kentucky July sale to Vision Sales in 2007. He was offered again as a 2-year-old through the 2008 Ocala Breeders' Sales March sale where Alex Solis II Bloodstock picked him up for $150,000.
The colt had a short, but brilliant racing career for the partnership of Bienstock and Winner Stables, Solis, Jeff Strauss, Tom Lenner, Tom Murray, and Skyline Stables. He won once and placed once at 2 and then won both his starts at 3 in the San Rafael Stakes (G3) and Sham Stakes (G3). The Pamplemousse was the morning-line favorite for the 2009 Santa Anita Derby (G1), but was scratched the day of the race due to injury.
"The Pamplemousse had more raw ability than any horse I ever trained," said trainer Julio Canani when the colt was retired. "Not only was he fast, but he could carry his speed a long way. I really believed he had classic potential. It was a travesty that he never had a chance to prove it."
Rancho San Miguel launched The Pamplemousse's stud career. His book size climbed to 65 by 2014, but then began to tail off as his winners failed to perform in black-type stakes. His best performer to date is stakes-placed winner Thermodynamics, who finished second in the $200,000 Melair Stakes. By 2016, The Pamplemousse had covered a total of eight mares.
With Keller, who owns Edgeview Equestrian Center near Eagle, Idaho, The Pamplemousse is entering a whole new world of potential.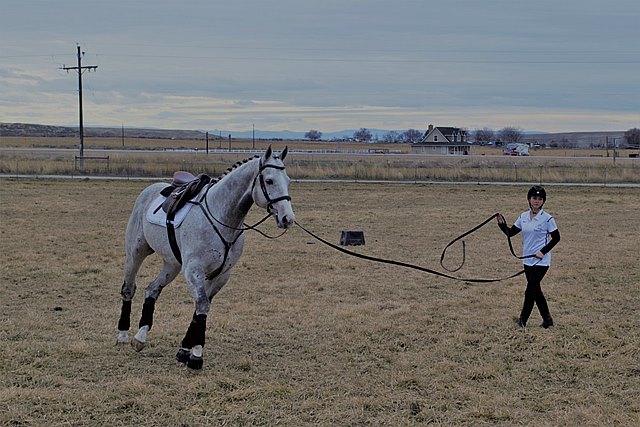 "A lot of event people are excited he's here," Keller said. "You could not find a horse with better conformation to be a jumping horse. He has kind of a short back, almost like a Quarter Horse, but big and tall with a really high neck. That is exactly what you want for a jumping horse. It is cool that he was such a good racehorse as well. He had a high cruising speed on the track and could get long and low. For cross country … it is good to have a horse with a long stride that can get you across the ground because it's a timed event."
Keller has been riding The Pamplemousse and took him over his first jumps Jan. 30. Her plan is to first show him off in competition and then later start marketing him as a stallion.
"In the eventing world, stallions need to be performing themselves so he has a record," she said. "He already has something going for him in that he has babies that are doing well, but a lot of people will want to see him competing and doing it himself. It doesn't have to be on a super upper level, that's OK. They just want to see that he does have the talent to jump, and he's got a good enough mind to do the show world."
Keller said The Pamplemousse has settled right in.
"He is definitely happy to be back at work," she said. "The first time I put a saddle on him he was acting all studish and moving around, then I tightened the girth, and he was all business. He stopped moving and was ready to go."
https://ranchosanmiguel.net/wp-content/uploads/2017/07/RSM-Logo-2.jpg
0
0
Hannah Applequist-Twichell
https://ranchosanmiguel.net/wp-content/uploads/2017/07/RSM-Logo-2.jpg
Hannah Applequist-Twichell
2018-02-15 00:45:20
2018-02-15 15:36:23
Career in Three-Day Eventing for The Pamplemousse